The collection of Perfect Warehouse Icons will instantly enhance any warehouse portal, inventory control or trade management application. Perfect Warehouse Icons depicts a variety of objects, symbols and actions typical for the warehouse industry, including chair icon, desk icon, heater icon, kitchen icon, warehouse icon, and many others. Perfect Warehouse Icons are instantly available and royalty-free.

Your order gets you 204 unique icons depicting various warehouse objects and symbols. Each image comes in multiple states, resolutions and formats. Each icon comes in all sizes of 16x16, 20x20, 24x24, 32x32, and 48x48 pixels, and three states: normal, disabled, and highlighted. Color depths of 256 colors and 32-bit True Color are supported. All icons are supplied in Windows Icon (ICO), Bitmap (BMP), GIF, and PNG formats. The entire set of 204 icons is available for only $99.95.


Perfect Warehouse Icons
Download demo icons
Purchase this icon set for $99.95 now!
Designing a Perfect Warehouse
Producing a perfectly usable warehouse control application or trade management system is impossible without professional graphics. Applications and websites dealing with warehousing and inventory control require a specific set of images rarely found in generic stocks. Warehouse icon, furniture, sofa and kitchen icons, desk and chair icons, heater icon, and many more symbols common for warehouse control products are quite uncommon in other stocks.

Perfect Warehouse Icons is a ready-made collection of stock icons designed to meet the need of developers producing applications and websites for trades, warehouse workers, and logistics professionals. The set includes a variety of objects, symbols and notions unique for the field. The set of Perfect Warehouse Icons depicts hardware tools such as hammer, screwdriver, drill, ironware, and many more to represent the most common inventory items. A variety of storage boxes, loading and unloading, furniture and kitchen icons, desk icon and chair icons are also included. Heater icon and warehouse icon are also present. Brick wall, construction, heavy machinery and tools used by builders are depicted. Shipping methods such as ground, sea and air cargo are covered, too.

Perfect Warehouse Icons are royalty-free, instantly available and very affordable. The easy to recognize images will enhance any inventory control product, warehousing portal or trade control system.

The set of warehouse icons contains of more than fifty theme icons in a number of sizes, color resolutions and file formats. All Perfect Warehouse Icons come in sizes of 16x16, 20x20, 24x24, 32x32, and 48x48 pixels, and include all three common states: normal, disabled, and highlighted. Semi-transparent 32-bit True Color images are included with alpha-mask; legacy 2560color versions are also provided. Perfect Warehouse Icons come in Windows Icon (ICO), Bitmap (BMP), GIF, and PNG formats for easy integration with software and Web applications.


Individual Ready Icons
You can buy individual icons to suit your needs. Each icon is $1 when purchased individually.
Icon Usage Agreement
Perfect Toolbar Icons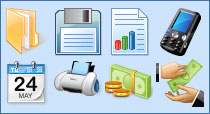 Business Toolbar Icons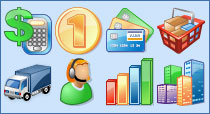 Database Toolbar Icons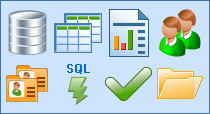 Large Weather Icons
represent a number of weather conditions that are common for software, weather Web sites, and mobile gadgets. The icons arprovided in all sizes standard to Windows, Mac OS, and mobile platforms. The largest versions are huge 512x512 pixel icons with vector sources in Adobe Illustrator (.ai) format easily affordable and ready to be printed or used in presentations in highest resolution.
Icons for medicine and chemistry: ambulance car, snake cup, pill, tablet, tooth, phial, syringe, test-tube, skull, bones, molecules and others.
Vista Toolbar Icons
. A collection of practical and eye catching icons representing all basic operations required for surfing the internet or using various applications.
Creating a software application is a serious task. It takes up a lot of thought, skill, and, certainly, a bright pack of icons to be applied at toolbars, menus e t c. And that's the part we can assist you with. Download our
48x48 Free Time Icons
set and see it enhance your project instantly.
Security Software Icons
is a library of professionally-crafted pre-made icons for use in commercial and personal products, including software applications, websites and presentations. The icons have a marvelous color palette, smooth and well-rounded edges.