The collection of Perfect User Icons will instantly enhance user interface of any application or website. Representing a wide range of user-related concept and objects, these icons can be used in any products where a user interacts with other people or browses some information about them - from communications software to a school website or database application. This royalty-free icon set includes images of people of various occupations, user roles, genders and ages. Perfect User Icons are instantly available and royalty-free.

Your order gets you 90 unique icons representing various professions, roles and action on users. All icons are provided in multiple states, resolutions and formats. Each icon comes in all sizes of 16x16, 20x20, 24x24, 32x32, and 48x48 pixels, and three states: normal, disabled, and highlighted. Color depths of 256 colors and 32-bit True Color are supported. All icons are supplied in Windows Icon (ICO), Bitmap (BMP), GIF, and PNG formats. The entire set of 48 icons is available for only $49.95.


Perfect User Icons
Download demo icons
Purchase this icon set for $49.95 now!
Designing a Perfect User
Producing a perfectly usable user control application or user management system is impossible without professional graphics. Perfect User Icons is a ready-made collection of stock icons designed to meet the need of developers producing all kinds of applications and websites involving user interaction. The set includes a variety of objects, symbols and concepts associated with users and people. Admin icon, computer doctor icon, girl and boy icons, agent icon, hacker and thief icons, police officer icon and many more original icons are included in the collection.

Perfect User Icons are royalty-free, instantly available and very affordable. The easy to recognize images will enhance any communications product, social website or database application.

The set of user icons contains 48 theme icons in a number of sizes, color resolutions and file formats. All Perfect User Icons come in sizes of 16x16, 20x20, 24x24, 32x32, and 48x48 pixels, and include all three common states: normal, disabled, and highlighted. Semi-transparent 32-bit True Color images are included with alpha-mask; legacy 256-color versions are also provided. Perfect User Icons are supplied in Windows Icon (ICO), Bitmap (BMP), GIF, and PNG formats for easy integration into any software and Web applications.


Individual Ready Icons
You can buy individual icons to suit your needs. Each icon is $1 when purchased individually.
Icon Usage Agreement
Perfect Toolbar Icons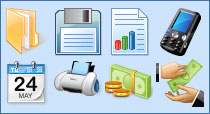 Business Toolbar Icons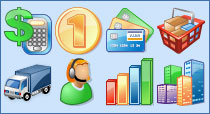 Database Toolbar Icons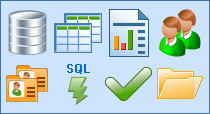 Large Weather Icons
represent different weather conditions that are common for software, weather Web sites, and mobile gadgets. The images are available in typical resolutions standard to Windows, Mac OS, and other platforms. The biggest versions are huge 512x512 pixel icons with vector sources in Adobe Illustrator (.ai) format easily affordable and ready to be printed or used in presentations in highest resolution.
Large Money Icons
is a collection of professionally drawn icons for use in commercial and personal projects, including software applications, websites, blogs and presentations. The icons have a bright color palette, and smooth edges.
Vista Toolbar Icons
will give a variety to your GUI replacing the standard icons with top grade stock icons in Vista style. The icons have bright colors and smooth edges.
Security Software Icons
is a set of wonderfully-crafted pre-made icons for use in business and personal products, including software, websites and presentations. The icons have a marvelous color palette, smooth and well-rounded edges.
Medical Icons for Vista
has been design to avoid any misconceptions appearing while looking at a medical Web site or operating a medical program. The icons are available in numerous sizes and formats.