Get a Better Blog with the Right Icons
Working on a blog engine or developing a new forum? Perfect Blog Icons are here to make navigation on your blog of forum look great. The set includes every image used in typical blogs and forums for navigating, posting, commenting and sharing opinions. Make your blog look and feel professional by using the perfectly crafted set of Perfect Blog Icons!

Each image comes in multiple states, resolutions and formats. Each icon comes in all sizes of 16x16, 20x20, 24x24, 32x32, and 48x48 pixels, and three states: normal, disabled, and highlighted. Color depths of 256 colors and 32-bit True Color are supported. All icons are supplied in Windows Icon (ICO), Bitmap (BMP), GIF, and PNG formats. The entire set of 68 icons is available for only $39.95.


Perfect Blog Icons
Get a Better Blog with the Right Icons
Some of today's most popular and lucrative projects on the web involve blogs and forums, and incorporating these elements into a project can draw in users and encourage them to contribute and create value. Many aspects of blog and forum development are important for realizing success, but some of the most central are focused on the project's visual presentation, and blog icons have a central role to play in this presentation. Some project managers and developers choose to work with blog and forum icons that are generic or come as a basic part of existing publishing software, but taking your icons a step further with a professionally-designed collection can significantly improve your product's value.

We offer a collection of icons specifically designed for blog and forum navigation, helping your online project make great waves on the web. You'll find all the basics including RSS and feed icons, comment graphics, and navigation symbols along with specialized icons such as approval and disapproval emoticons, favorite icons, and others. Best of all, you can keep a consistent and tidy look through the use of this set, which incorporates modern styles and finishes throughout. Dazzle your users with icons for web projects that look fantastic and make navigation straightforward and easy.

Inserting the ideal icon for a given function is easy with our collection. Once you've chosen the right graphic for the job, you can choose from a number of file types and sizes. You'll also find each icon available in three distinct modes for giving your blog or forum product a professional touch. Disabled, highlighted, and normal graphics are available for each icon in the set. Engage and impress your users with these attractive icons and add a new dimension to your web project.


Download demo icons
Purchase this icon set for $39.95 now!
The psychological strain of programmers. A view from both sides of barricades
The very existence of psychological strain in any profession, as a rule, rather moot point due to the fact that different people have seen it differently. However, the overall trend can be identified and, perhaps, it is a time when we can quite safely say that the programmers still have its own special psychological portrait that is due to their professional activities.

I am often faced with a similar opinion, and did not attach special significance to him, but when a female staff of our organization congratulated the developers on 23 th February to kind calling them "cosmic forces" have decided to arrange some emphasis on this issue, because One of my jobs is directly linked with psychoanalysis. Yes, and bash is not silent.

Immediately it is worth noting that the programmer spends much time at the computer, so many of these items are not only specifically to programmers, but also to the "computer scientists" in general.

Giperkontsentratsiya

Every programmer knows that a good and quality work on the code requires a very high degree of immersion in the code. Someone is trying to isolate themselves headphones, someone puts the timer turns off all external stimuli, etc. The degree of concentration at work is comparable to the programmer to work on a nuclear plant. Accordingly, all this gives rise to an increased irritability when interrupted this process, which apparently is perceived by people as outsiders, "zamorochennost at work", etc.

In real life, it can also cause their effects, such as the domestic affairs of the habit, too, are beginning to be made in the mode giperkontsentratsii. For example, while cleaning the apartment will not be parallel to the programmer to think of a million cases or unrestrained talking on the phone. Rather, he plunged into his task some (maybe in a very clean) and will just deal with the process. Not worth the programmer to "require an external focus," he progruzhen in the code or some sort of problem.

Absorption in the internal images and designs

The work of the programmer has its own specifics, which is in the same form more than anything inherent in the profession of engineer-inventor. If you're familiar with the works of Nikola Tesla, you'll remember how he described what is happening in his head. In short, the head of Tesla could build a mechanism to run it, and even "to scroll through time" of his work to understand what parts will wear and where problems may arise in the future. No less complex structures arise in the course of a professional programmer. This effect is called figurative sense designing. If the average person sees on the screen, only the character sets, the head programmer's code into a whole part of the world. Like reading a book creates images and emotions in man and the code is able to do with the programmer. That's why programmers "feel" the code, they know where he is "beautiful" when "dirty" if it will work, etc. With a side of a good programmer is comparable to the writer of fiction.

In real life, this is manifested in excessive inward immersion, especially if the programmer is trying to understand something. If the deformation is significant, the programmer can start to build the whole scheme of what is happening now. That is why often "constructed schemes of social interactions," such as politics, the programmers produce a feeling of "dirty code" and rejection. In everyday life it can sometimes be perceived as part of a mild form of autism, when in fact it is not. The man is quite adequate and is open to interaction with the outside world, but here are themselves mechanisms of interaction have indicated specificity.

Low levels of social interaction and diversity in their daily work

This time, not a "de facto", but still occasionally occurs and may play a role in the deformation of the psyche. Since most of the time a programmer spends working in the world of code, and the only "buddies" there are "methods, functions, objects, modules, packages, etc.", respectively, and the level of social interaction with programmers tend to be lower than in most professions. This is due not so much with so many people involved in the work, so much to think about other people there at the moment the man himself. If the janitor work hard to call "active social," however, he may be the janitor at the moment to think about his wife, children, friends, etc. A programmer is no such possibility, it should be immersed in the code. And although there is often a working group, but the staff are generally the same programmers. Programmers are sometimes difficult to work with people of other professions. So if the degree of deformation in the team is high, it only adds to this factor (social diversity of relationships).

Heightened perception of causality

Any code should work, but to write working code, you need to understand the structure of causal relationships of this code. Simply put, "what, why and how the" and "what happens if something does not happen as expected." All this leaves its imprint on the mind of man. This way of thinking has to be called "technical minded" when one tries to find a rational explanation of the whole and to understand the cause-effect relationship. Individual programmers writing code in addition to often being drawn into the technical aspects, such as the development of equipment to fit your needs (hello "soldering iron"). Sometimes it can reach the unique psyche of add-ins. For example, when a complex closure bra girl is as much interest as the fact that this bra hides.

From the outside it may often be perceived as "zamorochennost over trifles." The fact that no interest to most people, the programmer can generate huge streams of thought. Accordingly, since it is not proportional to the amount of the application of mental effort, then the conclusions that the programmer does about the effects of the real world can sometimes seem "eccentric" and regarded with a certain surprise. But surprisingly, if you ask the programmer why he thought it most likely will get a whole chain of cause and effect, and almost always quite reasonable. In general, this happens in the mind of everyone, but it is at this point, programmers are often aggravated and sometimes it can bring to the analysis of those analogies which would not come to mind the common man.

Getting used to a formal statement of objectives

Since the programmer must write code that should work exactly as required for the task, the habit of doing what has been said, gradually flows into other areas of life. But as in most cases, social interaction takes place non-verbal perception, "guessing" and "thinking and conjecturing," that the programmers acute sense of detail.

Not to say that programmers are not able to read thoughts and predict the actions of other people, but rather they prefer to ask a question once, than to "remake again." Sending a programmer in the shop? Tell me one sentence more, but spare him and yourself some questions. For example, do not "buy eggs" and "buy a dozen eggs in Class fresher." And do not take it as a "robot" to your question if you'll get detailed instructions with lots of "unneeded items". He tries to make things right. If a majority of the "keep it simple" is "less talk", then the programmers' keep it simple "is often" more precisely. "

Victims' engineering-glamor "

At the risk of being "eaten alive", but is currently still requires coverage under this article. The question will be not so much of programmers, many of the "programmer". Glamour is a normal and natural product of human needs, in a nutshell the theme of glamor can be called "Who is cooler," respectively, for a real-life "cars, clothes, loot, and so on." In the field of "engineering-glamor," the same principle, "Who is cooler," but with different criteria. Since the main concentration of the "programmer" does not focus on other people, as in "real-world glamor," and on his own inner world of images and the cause-effect relationships, respectively, and the goal is pursued in the area of the world. Latest on the characteristics of a fancy smart phone, a powerful PC / servak / laptop all running faster, fresh programs that make driving a avtokomplita 32 milliseconds faster, with more new applications prorutkoy smooth and trendy voice recognizer, knowledge of the secret features of the new version of the compiler, etc . etc. As in "real glamor" and the "engineering" is their "icons" such as a recent article about the US Robotics modem is an obvious example. So do not ask "why he is the same phone," and do not be surprised reply, "it is not the same here on the 500 megahertz per cent stronger." The interesting point. In some cases, the "glamor engineering" can be suppressed by an acute requirement for a cause-effect relationships. That is the new PC will not be bought, yet do not really need its power.

Conclusion

Actually the whole episode, "The Big Bang Theory" is built on the hyperbolas of phenomena that were described above. If not so hard to exaggerate what is shown in TBV, in general, it is this pattern would be observed in man, which would have been significantly exposed to all of the effects of the programmer.

Taking into account all described, not without reason programmers perceive as "space friends", but by their subjective opinion, I want to say that if it were not for the voluntary choice of those who go into the ranks of programmers, they would be worth it to give "milk for harm," but this case mental.

However, every person builds his life and the fact of psychological strain "laborers code" is not so great. Most have families, friends and interests in addition to the code and the computer. So do not be fooled by a pattern, "but it is a programmer." This is not a diagnosis, it's just a style of thinking)


Individual Ready Icons
You can buy individual icons to suit your needs. Each icon is $1 when purchased individually.
Icon Usage Agreement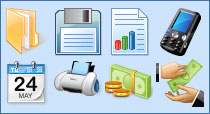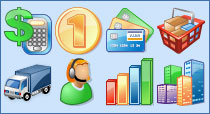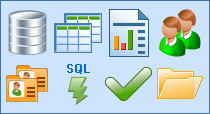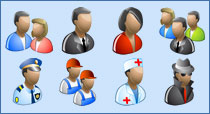 Large Weather Icons
represent different weather conditions that are common for software, weather Web sites, and mobile gadgets. The icons are available in typical sizes standard to Windows, Mac OS, and other systems. The largest versions are huge 512x512 pixel images with vector sources in Adobe Illustrator (.ai) format easily affordable and ready to be printed or used in presentations in highest resolution.
Business Icon Set
. A collection of all-purpose icons with various symbols for the business environment for use with your software or on your website.
Vista Toolbar Icons
will give a variety to your interface replacing the standard icons with top grade stock icons in Vista style. The icons have bright colors and well-finished edges.
Medical Icons for Vista
has been created to eliminate any misunderstanding arising while looking at a medical Web site or operating a medical software. The icons are provided in various sizes and formats.
Large Money Icons
is a set of carefully made icons for use in any spftware or Web projects, including software applications, websites, blogs and presentations. The icons present a bright color palette, and smooth edges.