Icon Maker for Windows PC
It is a powerful and easy-to-use utility for finding, extracting, creating and editing icons, cursors and managing icon libraries and image lists.
With Sib Icon Studio you can:
Manage icons, static and animated cursors, icon libraries, image lists
Create and edit smooth semi-transparent icons, static and animated cursors for Windows XP
Create and edit icons in standard and custom sizes, with color depth up to 32-bit True Color
Paint images with gradient and chess fill
Import and export ICO, BMP, JPEG, ANI, CUR, GIF and PNG image formats
Manage icon libraries for better and more efficient image storage
Extract icons from Windows executables, libraries and animated cursor files
Download icons from the Internet
Search for icons in folders
Modify icons contained inside executables
Use Instant Icons in your applications
System requirements: Windows 98/ME/2000/NT/XP/2003/Vista/7, 64 MB RAM, Pentium-333 MHz, 8 MB Hard Disk.

Trial limitations: 30 trial runs allowed, nag-screen.

Download (4.5 MB):
exe
Buy Icons that Suit Your Style
Beautifully-crafted, meaningful icons can easily change the face of your application or utility for the better. Buy icons perfectly matched to your needs.

Exceptional icons are a must-have feature for modern applications and development projects, whether you're working on a fun new game for mobile phones or are producing the next new toolbar. Making the choice to purchase icons that reflect your design preferences and easily convey the right meaning to users can help propel the success of your project, no matter the field or size of your work.

Buy icons made by thoroughly trained and visually savvy designers who understand the need to merge best development practices with a great user experience. If you're looking for quality and ease of use in your icons, you've come to the right place. Get icons related to general program functions, document processing, people and professions, medical fields, accounting applications, business and networking, social media, telecommunications, travel and leisure, security, and even household items.

You'll also find smooth and attractive icons related to emotions, navigation, and specific platforms such as the iPhone. You can pick up new icons in full sets or create a custom order to ensure you get exactly what you need.

When you source icons from a quality supplier, you can expect a range of options from a diversity of file types to multiple file sizes, making the implementation of your new pieces as easy and convenient as possible. Give your development project the boost it deserves and buy icons professionally designed to complement great code and layout with uncompromising graphics.

You can get a lot of stock icons at http://www.small-icons.com/


Individual Ready Icons
You can buy individual icons to suit your needs. Each icon is $1 when purchased individually.
Icon Usage Agreement
Perfect Toolbar Icons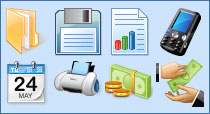 Business Toolbar Icons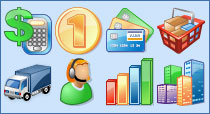 Database Toolbar Icons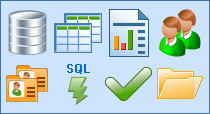 Large Weather Icons
represent a number of weather conditions typical in software, weather Web sites, and mobile gadgets. The icons are supplied in typical resolutions standard to Windows, Mac OS, and mobile devices. The largest versions are huge 512x512 pixel images with vector sources in Adobe Illustrator (.ai) format easily affordable and ready to be printed or used in presentations in highest resolution.
Speed up creation of e-romance Web sites and applications using ready-made Delicious Love Icon Set. The pack contains more than sixty love icons and represents lots of symbols and objects common to Web sites dedicated to human relationships.
Add beautifully designed toolbar icons to your recent projects.
Program Toolbar Icons
are readily available, royalty-free graphics of items, tasks and concepts that are typically used in software toolbars.
SibCode Medical Icon Library is a fantastic set of images that covers most of the possible medicine-related application's needs. The choice of professionals at an affordable price!
Give your Web application, database or software an exclusive, attractive look with a stunning new set of icons.
Plastic Toolbar Icons
are carefully developed and hand-crafted in all the provided sizes.